Getting Started
Getting setup to use Merge
This guide covers the basic things you need to do to get started with Merge.
Attention
This guide assumes you are using the reference portal at redstartb.net. If you are using a different portal, substitute addresses in this document that reference redstartb.net accordingly. Consult your project leader if you are not sure of the portal address.
Tip
The Merge Portal uses its own identity server to manage user identities. This is much like having a Google or Gitlab account, but in a server created for Merge Portals. This identity server manages your identity data and authenticates your communications to the Merge Portal. Note that the account made here is not a Merge Portal account. It is an identity account. Later in this walk-through portal admins will use this identity information to create a portal account.
In the future Merge will support third-party identity allowing merge accounts to be created using, for example, github or google identities.
Account Setup
The first step to experimenting on a Merge testbed is to create an account on the Merge portal. Follow the instructions either using "Launch" (the graphical web interface) or through the Merge command line interface (CLI).
Account Creation through Launch
Navigate to the Merge "Launch" GUI at https://launch.redstartb.net. You'll be greeted with a page that looks much like this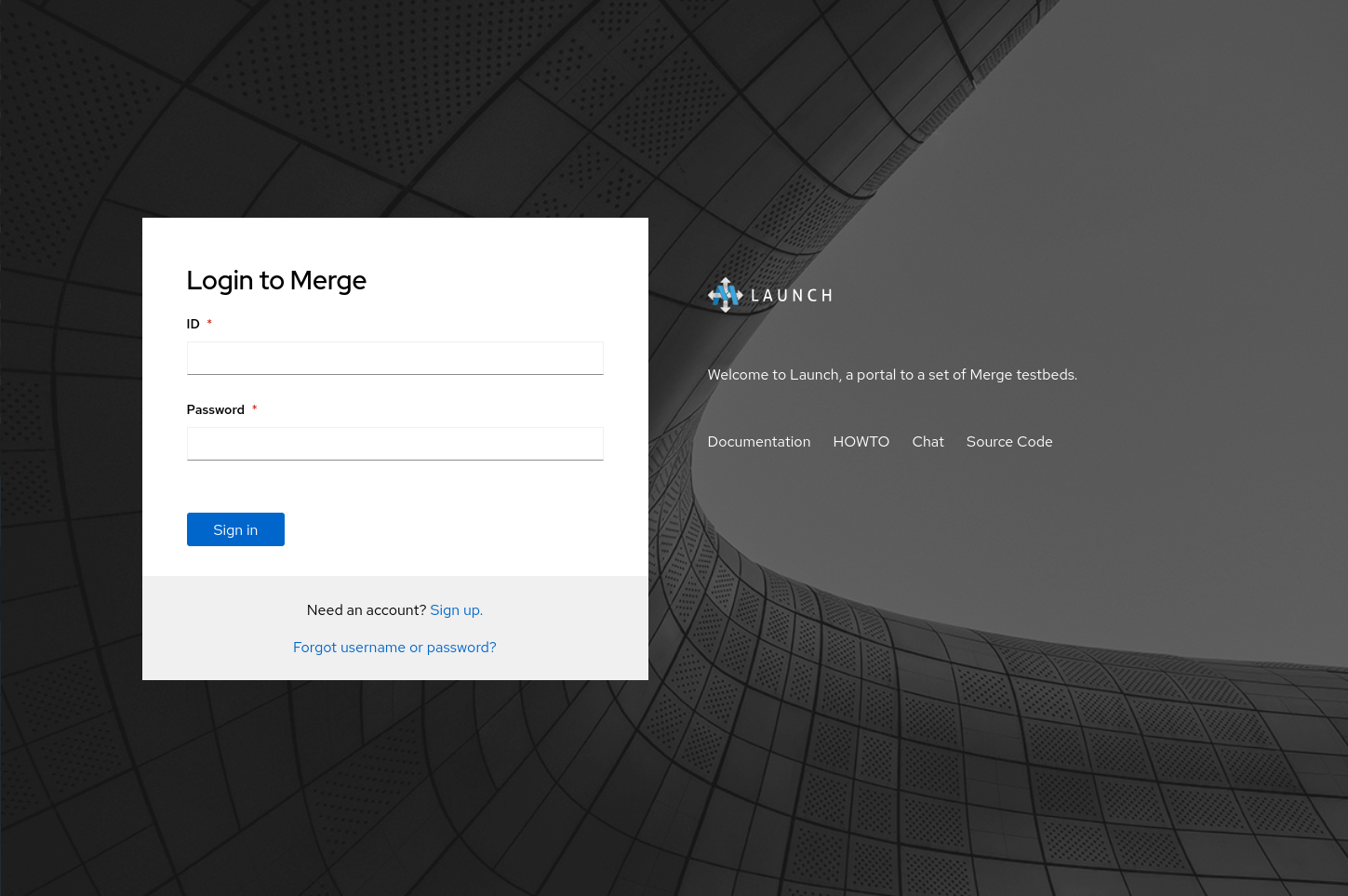 Click the Register new account link to load the account creation page.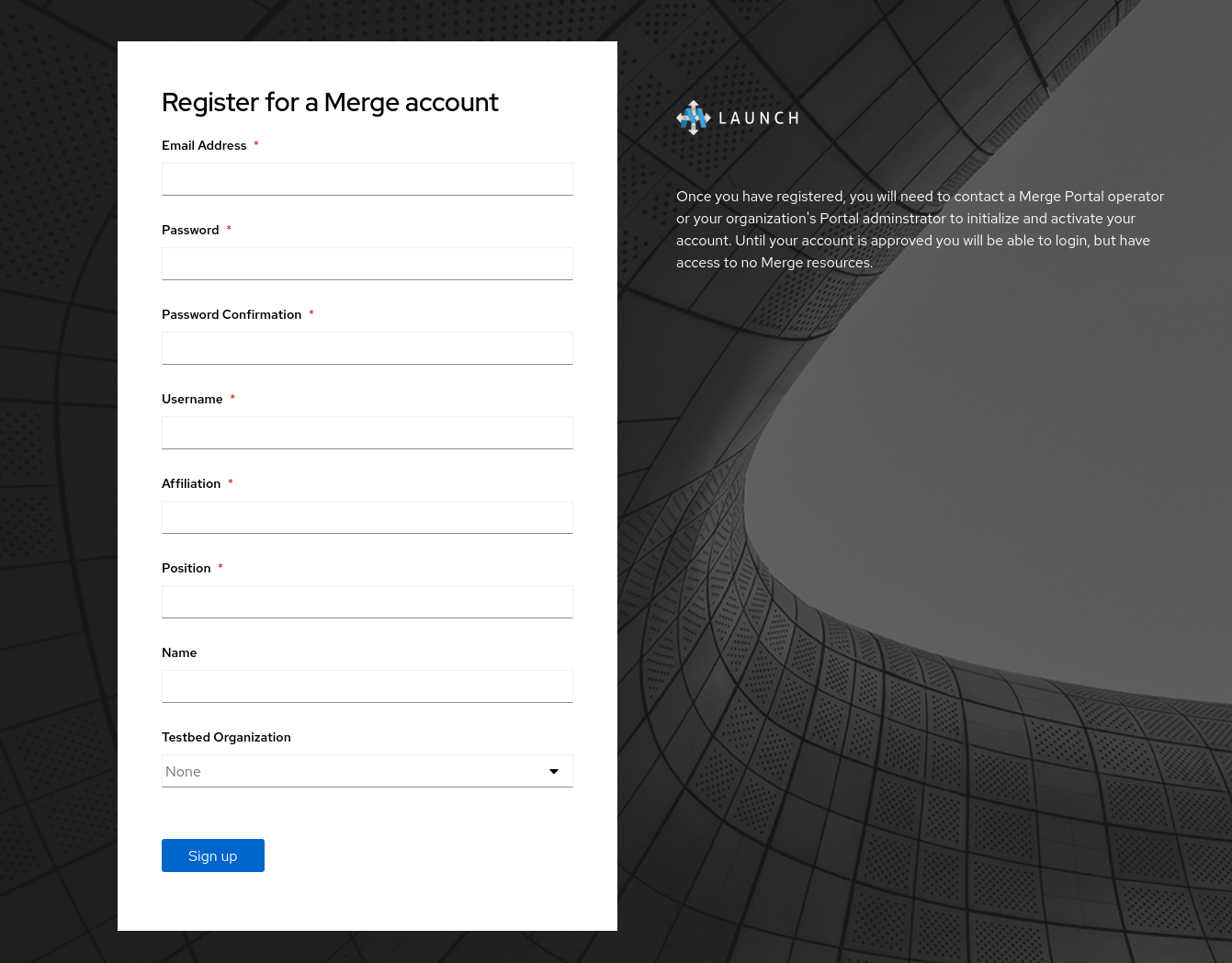 Fill in your account details:
E-Mail - the email of the account
Password - the account password. The password will be rejected with a reason if it is not strong enough.
traits-username - the username you will use to login to Merge
Note
The password you choose will be used to login to Launch and the Merge command line utility mrg. If you do not use a command line aware password manager, you may want to choose an easier-to-type password as you will be typing it in on the command line.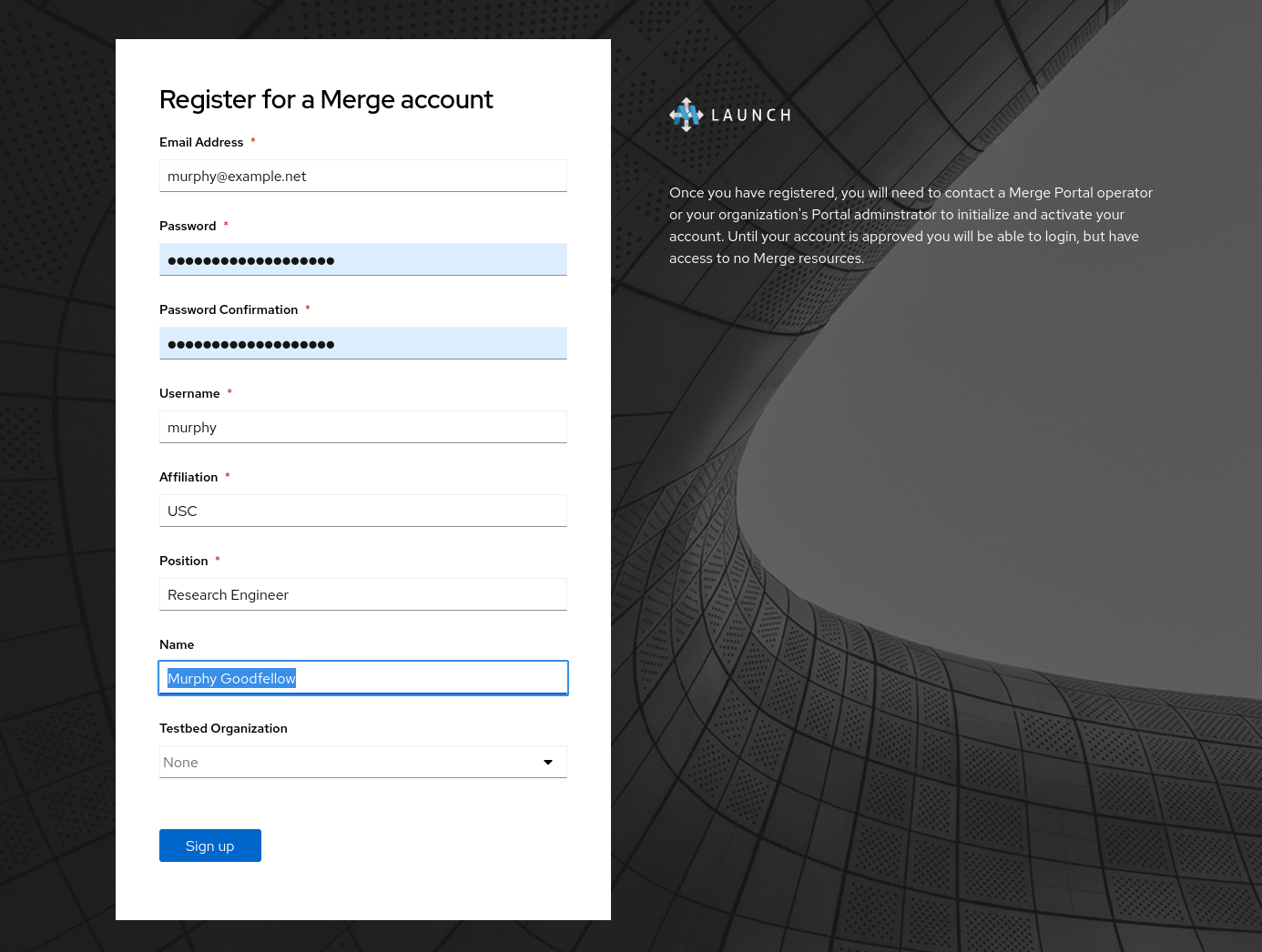 Once done, click Sign Up.
Note
You may get redirected to a confirmation page that shows the account information. If so, just go back to the original portal launch page. For Redstar, this is
https://launch.redstartb.net
.
Activate Your Merge Portal Account
Send a notification to the Merge portal administrators to have your account created and activated. They will use the Identity account created above to create an account for you on the Merge Portal. Speak with your project leader for up-to-date information on how best to contact them.
Until your account is activated, you'll see that you do not have access to any projects on the portal. You can login, but you will not have access to anything so pages in Launch will be content-free.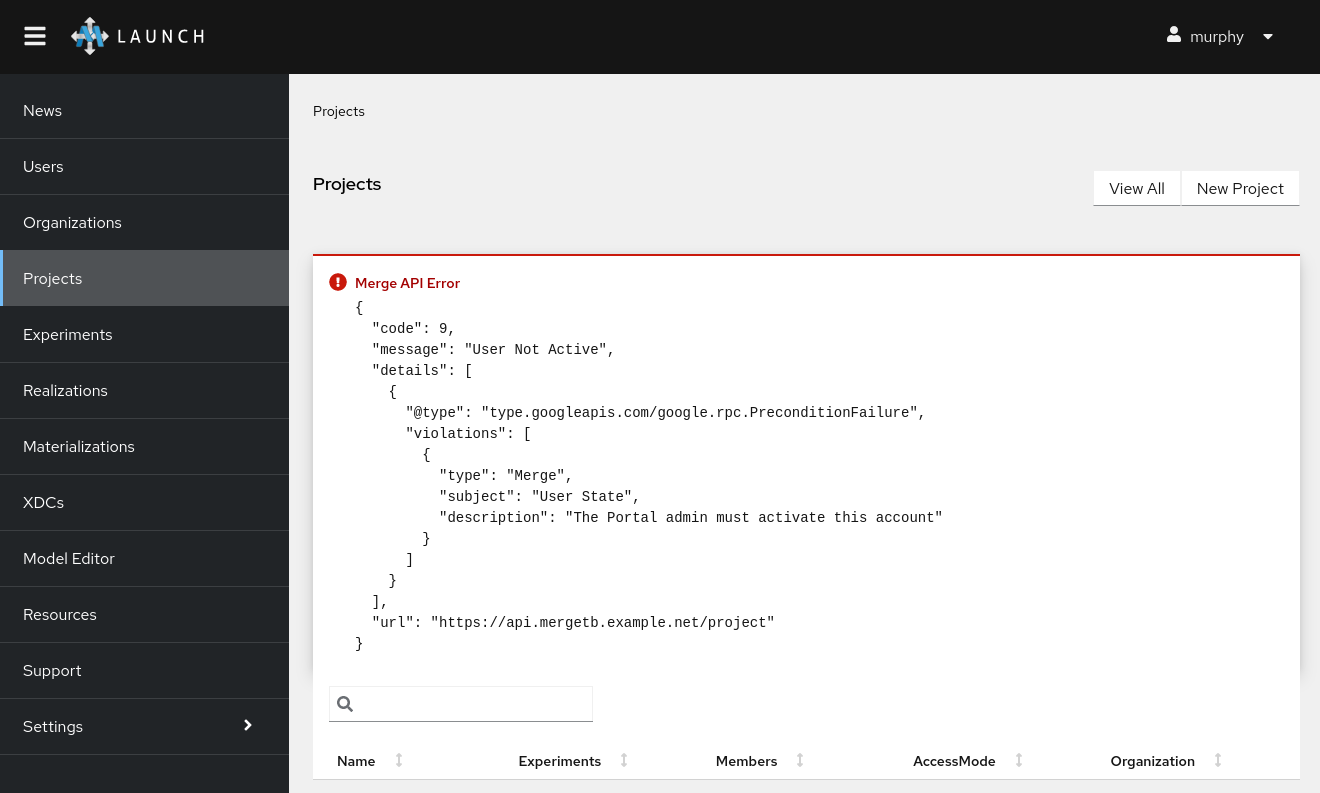 Once your account has been activated, your data will load and you are ready to start using Merge!
Account Creation through the CLI
First download the Merge CLI mrg for the operating system and CPU architecture of your machine:
Tip
The documentation assumes you've downloaded the CLI, made it executable, and renamed it to mrg
Configuring the API endpoint
The mrg CLI needs to be configured to point to the GRPC API endpoint of the Merge portal. The address can be constructed by prepending "grpc." to the portal address; e.g.,:
mrg config 

set

 server grpc.redstartb.net

As noted above, consult your project leader for the appropriate portal address.
Register account
Then, register your account using the mrg register command. For example, to create a user named "murphy" with email "murphy@mergetb.org" and password "muffins1701":
mrg register murphy murphy@mergetb.org muffins1701

Account Approval
Once you have created an account using either the web interface or the CLI, you should send a notification to the Merge portal administrators to have your account approved. Speak with your project leader for up-to-date information on how best to contact them.
Once your account has been approved, you are ready to start using Merge!